Nicht was der Mensch ist, nur was er tut, ist sein unverlierbares Eigentum.
Author: Christoph Schwinghammer
23 Jun
Mit George Carlin verabschiedet sich einer der besten Comedians unserer Zeit!

On June 22, 2008, Carlin was admitted to St. John's Hospital in Santa Monica, California complaining of chest pain. He died later that day at 5:55 p.m. PDT of heart failure at the age of 71.

George Denis Patrick Carlin (May 12, 1937 – June 22, 2008) was a Grammy-winning American stand-up comedian, actor, and author.

Carlin was especially noted for his political and black humor and his observations on language, psychology, and religion along with many taboo subjects. Carlin and his "Seven Dirty Words" comedy routine were central to the 1978 U.S. Supreme Court case F.C.C. v. Pacifica Foundation, in which a narrow 5-4 decision by the justices affirmed the government's right to regulate Carlin's act on the public airwaves.

Carlin's most recent stand-up routines focused on the flaws in modern-day America. He often took on contemporary political issues in the United States and satirized the excesses of American culture.

He placed second on the Comedy Central cable television network list of the 10 greatest stand-up comedians, ahead of Bruce and behind Richard Pryor. He was a frequent performer and guest host on The Tonight Show during the three-decade Johnny Carson era, and was also the first person to host Saturday Night Live.
Author: Christoph Schwinghammer
13 Jan
Apropos, wer George Carlin nicht kennt, geht jetzt in die Ecke und schämt sich…
Aber weil ich ja nicht so bin, hat nun der-, diejenige die Chance ihn kennen zu lernen! Imho der beste amerikanische Kabarettist! (Allerdings kenne ich auch nicht wirklich viele…)
>> George Carlin – Life is Worth Losing
more info about this guy:
http://en.wikipedia.org/wiki/George_Carlin
Author: Christoph Schwinghammer
11 Apr
Ein Wahnsinn was dieser Mann alles in seinem Leben gemacht bzw. erreicht hat. Man kennt ihn meistens "nur" aus den "Hau Drauf – Komödien" und dass er ein ziemlich erfolgreicher Schwimmer war, ist vielleicht auch noch einigen bekannt, aber Pilot, Sänger, Fabrikant, Jurist und Politiker, das ist mir zumindest neu.
Wenn ihr mal Zeit habt, lest euch seine Biografie auf Wikipedia durch, es lohnt sich!
http://de.wikipedia.org/wiki/Bud_Spencer
Author: Christoph Schwinghammer
23 Sep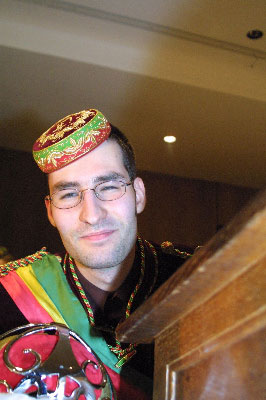 Endlich habe ich ihn zu Gesicht bekommen, den Flo (Florian Hechenblaickner heißt er mit bügerlichen Namen). Ein durchaus sympathischer Kerl, Tiroler (Gott sei Dank), 25 Jahre jung, Pharmaziestudent und er schreibt derzeit seine Diplomarbeit. Außerdem, das Bild hat es ja bereits vorweg genommen, ist er Mitglied der KAV Rheno Danubia, einem Abkömmling des CVs (=Cartellverband der katholischen deutschen Studentenverbindungen). Auf dem Foto kann man ihn allerdings in der Tracht seiner alten Hochschülerverbindung bewundern, der K.Ö.St.V. Frundsberg. Endlich wurde ich aufgeklärt was all diese Studentenverbindungen auf sich haben, welche es gibt und welche Interessen sie verfolgen. Gleich vorweg: Nein, der CV ist nicht rechts orientiert. 😉 Er hört mit Vorliebe klassische Musik und ist der lateinischen Sprache sehr angetan. Zusätzlich beherrscht er Altgriechisch in Sprache und Schrift – bemerkenswert. Natürlich kann man einen Flashmaster CRL niemals ersetzen :D, aber derweil bin ich durchaus zufrieden mit meinem neuen Mitbewohner.
Auch die Nachbarn Daniel und Mike sind nicht mehr Teil des 6.Stocks im ISH. In ihrer ehemaligen WG haben es sich jetzt Manuela und Sabrina, zwei Osttirolerinnen – total nette Mädels, gemütlich gemacht. Also das WS 2006 kann kommen…
featured links:
KAV Rheno Danubia
Cartellverband
Filed under: college life
Author: Christoph Schwinghammer
19 Apr
REPOST AFTER HACK:
Ich hoffe die meisten unter euch kennen noch den total kränken Stuntman aus Jackass: Steve-O, nun die Ähnlichkeit ist verblüffend, Carl streitet es zwar ab, aber wir wissen es besser! Carl IST Steve-O, wer es nicht glaubt soll selbst sehen:
Related Links:
Fotos von Carl´s Europatrip *sehenswert* (Homepage und Fotos made by Mucho Styles):
http://www.akdmx.com/pictures/
Steve-O´s offizielle Webpage:
http://www.steveovideo.com/
Filed under: college life
Author: Christoph Schwinghammer
19 Apr
REPOST AFTER HACK:
Ich wusste, dass unsere Nachbarn in der Schweiz ihre Eigenheiten besitzen, aber dass sie andere Netzstecker haben, das wusste ich noch nicht! Außerdem ist die Schweizer Tastatur (Inklusive Grave, Akut und Cedilla!) und Carl´s Fischaugenkamera einen Blick wert.
btw. französische Zeichenerklärung:

à – Kleines a mit Grave
è – Kleines e mit Grave
ç – Kleines c mit Cedilla
Filed under: uncategorized
Author: Christoph Schwinghammer
13 Jul
Immer wieder gibt es Ohrwurm Phänomene die meistens – extrem nervig – den Kopf einfach nicht mehr verlassen wollen. Rezent das bescheide Musikstück von Carly Rae im anspruchsvollen Text 4- Zeiler… Das Internet, vor allem YouTube, ist voll von Reaktionen und Remakes auf das Musikvideo.
Heute habe ich endlich eine Version gefunden, die auch mir das Lied näher bringen kann. 😀
THX Martin
The Miami Dolphins Cheerleaders shot their 2013 Swimsuit Calendar in the beautiful Dominican Republic. We decided to have a little fun and make our own cover of Carly Rae's "Call Me Maybe". We hope you enjoy!
more info:
http://www.miamidolphins.com/
Author: Christoph Schwinghammer
5 Mar
Charlie Sheen (aka Carlos Irwin Estevez) is seriously losing it…
>> 20/20 Charlie Sheen Interview on ABC News
"I have a different constitution, I have a different brain, I have a different heart, I got tigerblood, man."
Seit kurzem tweetet er auch:
http://twitter.com/charliesheen
more info:
http://en.wikipedia.org/wiki/Charlie_Sheen
http://www.imdb.com/name/nm0000221/
Author: Christoph Schwinghammer
1 Mar
starring Jimmy Kimmel
also featured in this video:
– Scarlett Johansson
– Minka Kelly
– Jessica Biel
– Jessica Alba
– Kelly Ripa
– Eva Longoria
– Emily Blunt
– Sofia Vergara
– Lindsay Lohan
(= female ÜBER-CAST!!!)
Let's get ridiculawesome!
THX Schöni
Author: Christoph Schwinghammer
13 Jan
Zeitgeist, the Movie is a 2007 web film produced by Peter Joseph that presents a number of conspiracy theories related to Christianity, the attacks of 9/11, and the Federal Reserve Bank. It was released free online via Google Video in June of 2007. A remastered version was presented as a global premiere on November 10, 2007 at the 4th Annual Artivist Film Festival & Artivist Awards.
Ich habe ihn noch leider nicht gesehen, weil ich einfach keine Zeit dazu habe (Filmlänge 116min), aber die Bewertungen sprechen für die Qualität dieser Dokumentation. Auf IMDb hat er ein 9.3er Rating bekommen (…bei 20 votes) 😉 und auf Google Video selbst immerhin 22261 Kommentare und 5 von 5 Sterne erhalten. Diese Fakten und die Tatsache, dass der Beginn des Films mit George Carlin eingeleitet wird, sind Grund genug dafür hier gepostet zu werden.
Update:
Naja…, hab mir jetzt die Zeit genommen und ihn angesehen und muss sagen, dass man ihn durchaus ansehen kann, man jedoch das Ganze hinterfragen sollte. Zu aller erst weiß man nicht woher der Regisseur seine Fakten bezieht, teils wirkt es zu übertrieben und ein paar Fehler haben sich auch eingeschlichen. (Goofs: Die Erdkugel dreht sich von Ost nach West; auf der Karte zur "North American Union" sieht man, wenn man genau hinsieht, ein Ying Yang Symbol über Westamerika, genau links neben der mexikanischen Flagge; usw.) Aber nebst all dieser Kritik überrascht er mit interessanten Aufdeckungen und kann in vielen Belangen überzeugen.

An alle Verschwörungstheorien- Anhänger unter euch, Illuminaten, Septanern und Micheal Moore- Lesern, schaut ihn euch an. Alle anderen, die des klaren, kritischen Geistes bemächtigt sind, ebenfalls! 😀
Zeitgeist, The Movie @ Google Video (english)
Zeitgeist, The Movie @ Google Video (german)
Bitte nur wenn es nicht anders geht, die deutsche Version ist, wie so oft, ziemlich mies…

>> Official page